Original Uwell Amulet 10W 370mAh Pod System Starter Kit
$33.99
The Uwell Amulet Kit is the world's first watch-style pod system kit powered by 370mAh built-in battery and 2ml refillable pod cartridge. It can be worn on your wrist to free your hand, just touch it, you can check the date and time at any time. And the direction of the screen can be adjusted according to your wearing habits. The included cartridge is compatible with e-liquids and nicotine salts. It also features no button design for easy operation. What's more, the unique Pro-FOCS flavor testing technology will provide you with the ultimate vaping experience by controlling the heating temperature and completely restoring the e-juice flavor. The anti-dust system effectively protects the core components and prolongs service life. Multiple protections are applied to guarantee safe vaping.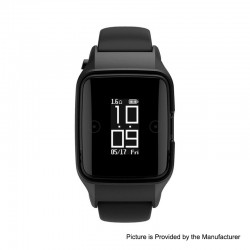 Original Aspire AVP 12W 700mAh All-in-one Pod System Starter Kit
$26.99
The Aspire AVP Pod System features a sleek and comfortable refillable pod / cartridge vape system that is easy to use and operate. The Aspire AVP Pod System features three wattage settings to choose from that is easily adjusted using the independent power button. The Aspire AVP Pod System is powered by a built-in 700mAh battery that can be charged via the bottom micro USB charging port. The Aspire AVP Pod System is automatically activated by inhaling for an easy and comfortable vaping experience. The AVP is designed to be portable and easily fits in the palm of your hand. The AVP utilizes a spring loaded leak resistant which locks into place when you are done refilling to help minimize leaks and messes. The Aspire AVP Pod System utilizes a refillable empty pod cartridge with a built-in coil inside which can be filled with your favorite vape juice. A lanyard is also included to help secure and carry your Aspire AVP pod system.
This product is Chinese Version, which comes with manual / Package in Chinese,
Original Justfog Minifit Ceramic Wick Replacement Pod Cartridge 3EA
$6.89
Justfog Minifit Replacement Pod Cartridge,is perfectly used for Justfog Minifit Kit. Built-in coil design makes it a handy and ready component for vaping anytime and anywhere. Bottom filling design and airflow bring you simple but amazing vaping experience.
Original Uwell Amulet Kit Replacement Pod Cartridge
$8.99
The Uwell Amulet pod cartridge features 2ml juice capacity and 1.6ohm resistance. The max power output is 10W.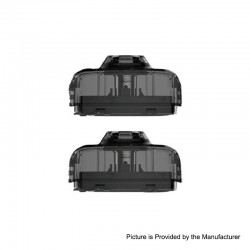 Original Aspire AVP AIO Kit Replacement Pod Ceramic Coil Standard Version
$7.99
The Aspire AVP Replacement Pods are a set of 2.0ml food-grade plastic pods, featuring a 1.3ohm integrated coil, and is refilled via bottom fill system, with two silicone stoppers to prevent any pesky leaks and spills.
This product is Chinese Version, which comes with manual / Package in Chinese,